The innovative pedal training works as a leg training device for on the go to move and circulate the feet. The pedalling and rocking motion makes it easy to mobilise the legs in between.

Short description of the invention
The mobile leg exerciser makes it possible to support the movement of the legs when travelling by train, plane or bus by enabling both pedalling and rocking movements.

A special mechanism makes the leg trainer flexible and individually adjustable. The device is foldable and transportable and can be attached under any seat by means of a magnet. During longer journeys, this training device helps to ensure that the legs/veins are optimally supplied with blood.

Advantages of the invention
Benefits
PRACTICAL & PORTABLE
Minimal space requirement, also foldable and easy to transport

EFFECTIVE APPLICATION
The use of the Veintastic provides effective blood circulation to legs/veins

TRAINING ON THE MOVE
Gentle exercise/movement of the legs on the move

2IN1
DEVICE
Enables both pedalling movements like cycling and a rocking of the legs

Property rights
Utility Model

Type of protection: AT Utility model
Registration number: GM7-2021
Date of registration:  29.01.2021
Titel: Pedal and rocker device/ Veintastic
Main Claim: Mobile and transportable pedal training and rocker training unit (1), characterised in that it consists of a hub (2) with magnet (3), to which a thread (4) with cranks (5) and pedals (6) is attached on the left and right, the crank (5) having two integrated joints (7), respectively at the upper and lower ends, and the pedals (6) having parts (8) that can be folded out forwards and backwards. The loops (9) are attached to the pedals (6) and to the joints (7) by means of a screw and can be moved forwards and backwards.
List of registration:
1. mobile and transportable pedal training and bobbing training unit.
2. hub
3. magnet
4. thread
5. crank
6. pedals
7. joints
8. fold-out parts
9. loops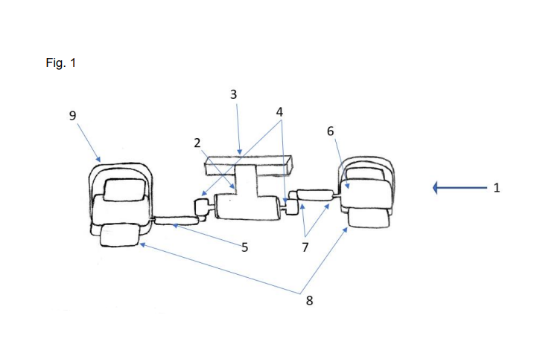 Fig.1 - Rocker training
As can be seen in Figure 1, the rocker training unit has been adjusted.The crank handle (5) with the 2 integrated joints (7) has been folded upwards and the fold-out parts (8) folded out.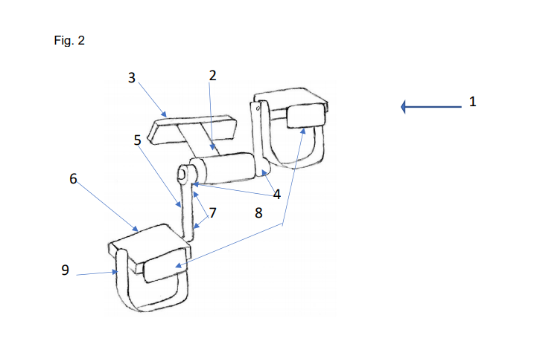 Fig.2 - Pedal training
As can be seen in Figure 2, the pedal training unit has been adjusted.The crank (5) with the 2 integrated joints (7) has been folded down and the folded down and the fold-out parts (8) folded down. 
ARE THERE ANY OPEN QUESTIONS?

DO YOU REQUIRE FURTHER INFORMATION?
We would be happy to provide you additional information material or clarify open questions with the inventor for you. Simply contact us and we will be happy to support you.

Contact us

JMW INNOVATION GMBH

jmw Innovation GmbH has been successfully implementing and marketing ideas at two locations (Salzburg/ Berlin) for over 20 years. Thanks to our many years of networking, our passion for new ideas and our experienced employees, we are THE first point of contact for new ideas in the German-speaking world.

Website
www.erfinderberatung.com
© 2022 All rights reserved.